About
Hej! My name is Johan. I'm a Swedish eco friendly minimalist who likes Gentoo Linux, Neovim and custom built keyboards. On my weblog you will find posts mostly (but not exclusively) related to Linux, plain text and minimalism.
I advocate ethical software that's based on open source software, as well as the UNIX-philosophy, the KISS-principle and the "worse is better"-concept. I consider them all to be inspiring and healthy approaches to software as well as a life itself.
I started my journey with Linux based operating systems in late 2006 when a friend brought me this printed CD with Ubuntu 6.06. I quickly become involved in the community and I even become an Ubuntu member back in 2009. I eventually replaced Ubuntu with Arch Linux and later switched to Gentoo Linux.
My life outside of the computers is fairly anti-technology and disconnected. I really don't own any other technology than the basic things like my computers, my TV and my phone. I actually try to live a minimalist, healthy and sustainable life and I think that less things and less distractions is the way to a healthy life.
My hardware
Atlas
This is my 9 year old workstation computer. It's still going strong!
| | |
| --- | --- |
| Processor: | Intel Core i5-2500K (3.30 GHz) |
| Motherboard: | ASUS P8P67 PRO B3 |
| Memory: | Corsair Vengeance DDR3 1600MHz 16 GB |
| Graphics Card: | Gigabyte GeForce GTX 780 3 GB OC Windforce |
| Power supply: | Corsair RM750 |
| Storage: | Samsung 850 PRO 128 GB SSD |
|   | Seagate Ironwolf 4TB HDD |
| Case: | Fractal Design Define R2 |
| Monitor: | Samsung S24C750P (24", 1080p, 60 Hz) |
| Keyboard: | Custom built 60% keyboard |
| Mouse: | Logitech G305 |
| Operating system: | Gentoo Linux |
Billy
This is my tiny computer that I run things like my IRC- and XMPP-client on, which is WeeChat with bitlbee.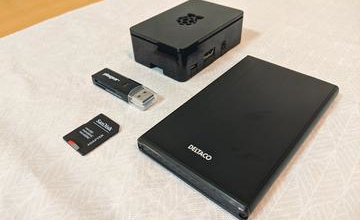 | | |
| --- | --- |
| Computer: | Raspberry Pi 2 Model B |
| Storage: | Kingston MicroSD Class 10 32GB |
|   | Intel 320 120 GB SSD using an external USB 3.0 cabinet |
| Operating system: | Raspberry Pi OS |
Contact me
Advertising